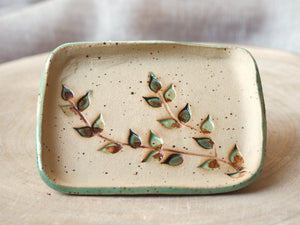 Size 13 cm x 10 cm 
One-of-a-kind 
A unique ceramic soap dish with hand-pressed leaves to decorate your bathroom or be given away as a gift. 
At a glance
Each piece is 
unique
handmade
with food-safe glaze
dishwasher safe
frostproof
Handmade with love
With great attention to detail, every single blossom was pressed into the clay by hand.
The ceramic dish dries for a few days before it is then fired for the first time at 950 degrees and then the food-safe glaze can be applied.
Finally the glazed bowl is fired again at 1230 degrees, the so-called high fire which makes the ceramic dishwasher-safe, frost-proof and waterproof.
Since each soap dish is a handmade unique item, shape, motif, color and size can
differ slightly from the picture.