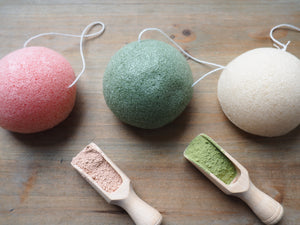 Qty 1 Konjac sponge

The natural Konjac sponge, made from vegetable fibres of the Amorphophallus konjac plant, is very gentle and softly cleanses and exfoliates the skin. It is ideal for people with sensitive skin, even great for kids! It is vegan, eco-friendly and naturally coloured with herbal extracts and clays.
We stock the following konjac sponge types:
white Konjac sponge (pure uncoloured plant fibre)
black Konjac sponge with bamboo charcoal 
pink Konjac sponge with red clay
green Konjac sponge with green tea extract 
The price is for one sponge in a random colour. 
To use the sponge, soak it in warm water until it's soft and has grown in size. You can use it with or without soap to cleanse and exfoliate face and body. To maximise shelf life, hang after use so that it dries thoroughly.